| | |
| --- | --- |
| | |
Welcome to THE VW CAMPER FORUM
Sign in
Create Account
Not a member yet? Why not?
Guests need to register to view our forum.
It only takes a minute and is totally free!
Why not sign up today and start meeting our community.
1990 Vw T25 with Golf Gti Engine
Hi All - am moving my project thread here from another forum, so thought I would start from the beginning...
We bought our Van last year, and I was loitering around on the site quite a bit before then trying to work out what was what. We've been doing bits and pieces to it, so thought i would start a thread, showing where we are now, and then keep track of future developments.
So - after much searching we bought our Van in July 2013. A 1990 T3 in ship grey, complete with Golf Gti engine in the back, and set of knackered Recaro's in the front, and it basically being the type of Van we wanted - a very simple interior (no fridge/cooker etc) and a tidy(ish!) outside with big bumpers etc.
We drove all the way from Devon to London to get her (vans seem to be a lot more down this way) and did the round trip in a day. Believe me, going up in Jodie's Mito, was a lot more comfortable that coming back in the baking heat, on the Recaros! It was an interesting journey. It broke down after about 5 miles... turned out to be lack of fuel and general fueling issues, and took a good £15 to get going and a lot of fiddling, but the RAC man was very helpful, and even escorted us onto the Motorway, and then off to the junction we were leaving at. Eventually we got home, and got some pics the next morning to celebrate!
We were well happy! First to sort out some issues. All tyres were loosing air quickly, so a quick trip to my friendly tyre place and he whipped all the wheels off, had the tyres off, cleaned, and sealed the wheels etc and all promised to be good. Until we found a whacking great crack in one of the wheels! We thought we would just sort out some new ones so we could get out in it asap over the summer.... we went down the Merc wheel route, and think the results are pretty good, if a little menacing!
Once those were on, the bus was usable in the short term, so we took advantage of the weather and had a couple of trips away.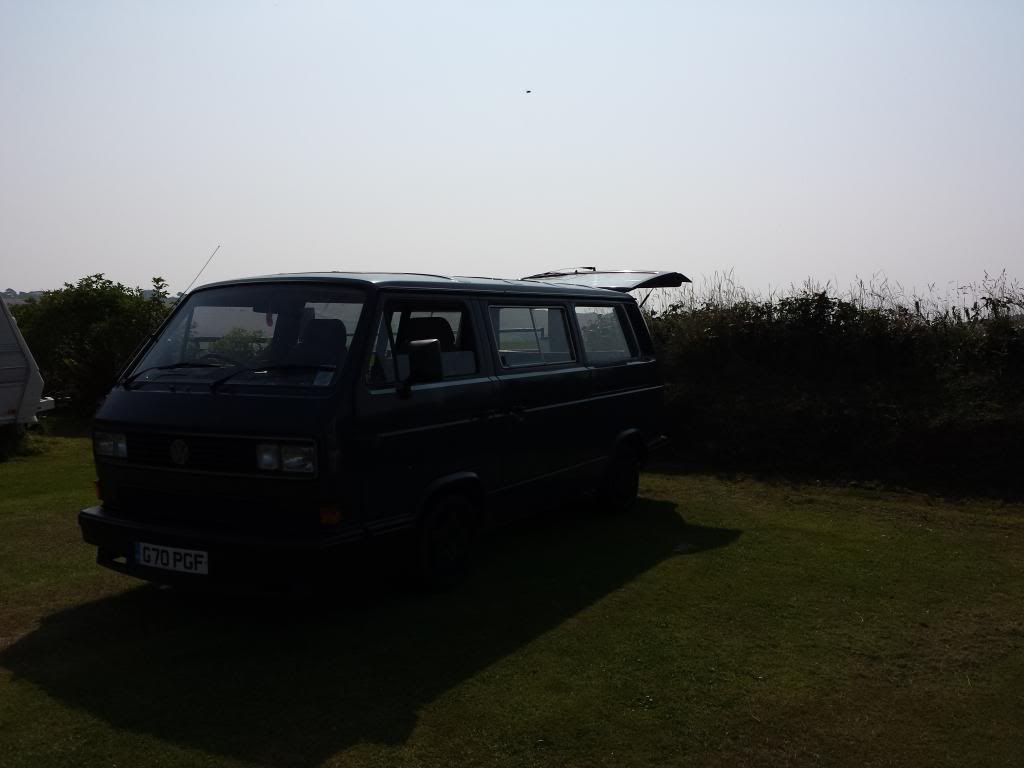 And it performed admirably. No reliability issues, the gti engine returning an average of about 30mpg, comfy... it did highlight some issues tho... the bed was crap, the exhaust was WAY to low;
And the recaros, whilst cool, and a dam sight nicer than the standard seats were way to high giving me a dead left leg when driving for any period of time. The gear change was also shocking...
Overall tho... well happy, and a very good solid base...
---
Oh - another thing that reared its head... after our first trip, we filled up on the way home, and I then saw a worrying amount of fuel flowing (yes, flowing) onto the floor; these were the culprits;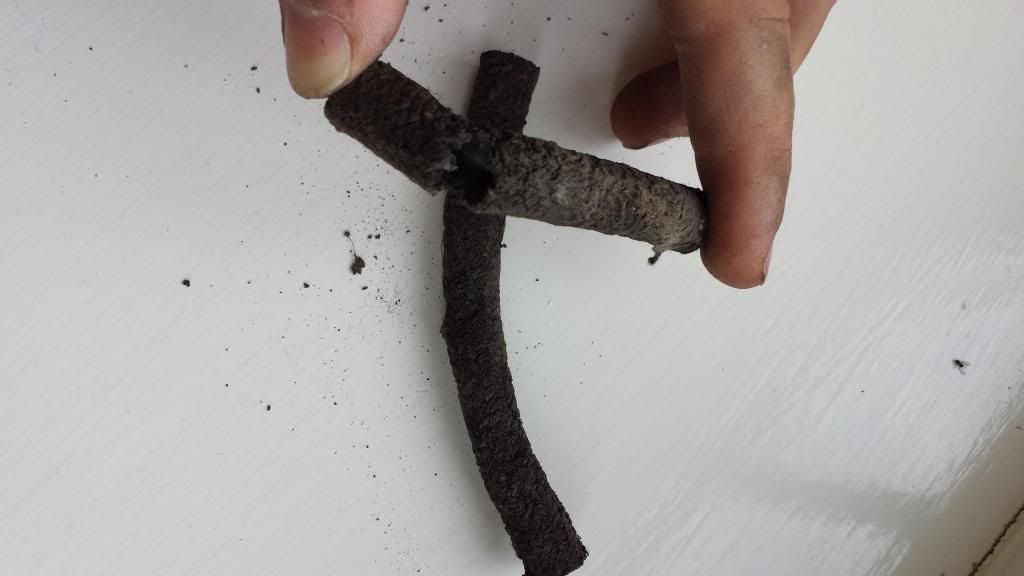 Got them sorted pretty sharpish!
So, after summer, we started making some changes... First thing was the interior. The bed as it seemed to just be a rear seat that folded back. We bought a big bit of foam to get us through the summer, but, it wasnt a long term solution. Here is what we made of it in the first instance;
We stripped the whole interior out. Only then do you appreciate quite how much space is in there! Upon removing the carpet, we found that the person who had removed the middle bench had helpfully not filled any holes left by bolts in the floor... explaining the damp carpet! We purchased a full width R&R bed, and new flooring. Bunged the holes up in the floor etc... that left us with this (not finished in this pic);
My brother is a chippy so built the rear section for the bed, and we covered it in foam etc purchased from a local supplier (who also happens to be a car nut, and used to run T3's as work vans!). That was loads better. And Imelda seems to approve;
We took it away for a couple of trips in October, then Sorn'd in and got to work!
First thing was the seats. Now whilst Imelda likes them;
They were just too high for the van. The massive bolsters also made getting in and out of the drives seat very hard (because of the big steering wheel!). So, out they came;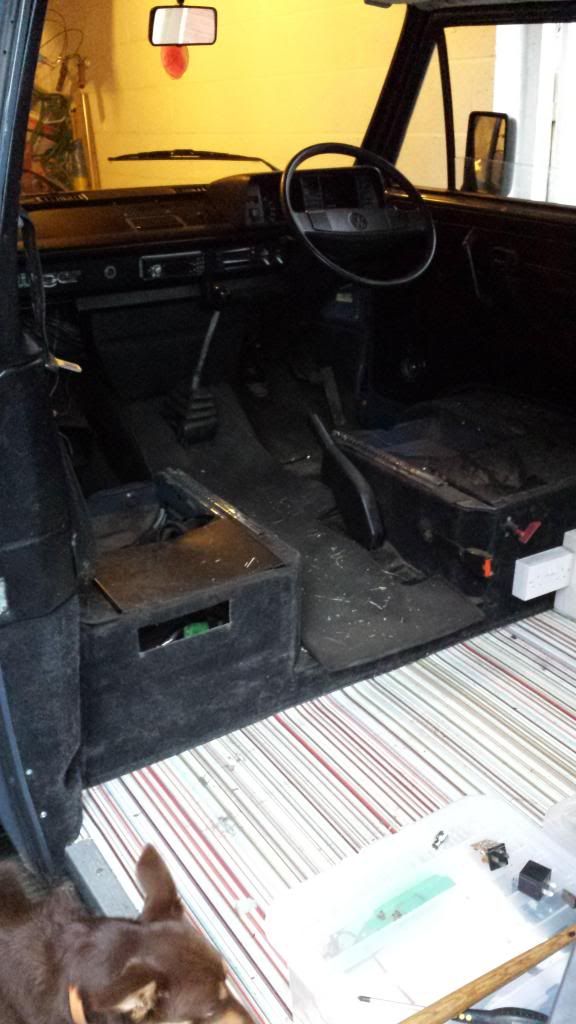 Making the van very hard to move about! I borrowed an original spec seat from my mates van (that he keeps stressing is not his, and that he is just working on to sell) whilst he is custom making some seat brackets for a cheeky little set of MX5 half leather seats I got hold of.
Next gear change. The mate I mentioned is amazing with cars... last count he has 9, inclduing various Lancias (HF Turbo, Delta Evo...) a V8 capri, fiat coupes, Alfa GTVs etc etc. He has been massively helpful with this project. He came up and got the gear linkage etc out;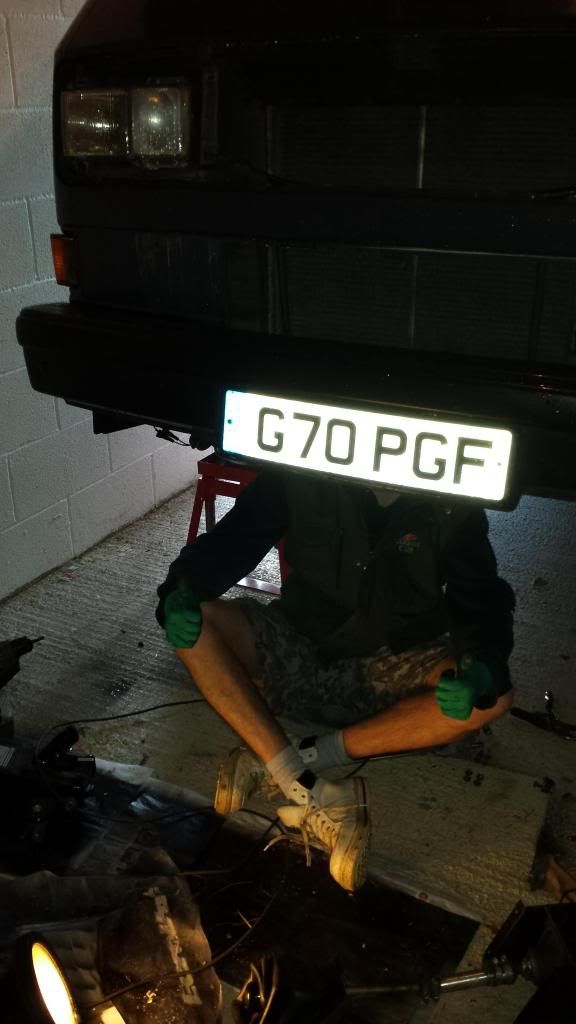 Now... on getting everything out, the little guide blocks for the linkage at the front had all but totally eroded, everything was as slack as anything, but most worrying was this;
THe gear stick had snapped at some point, and bee repaired with liquid metal and jubilee clips! Pricing a new one up scared me, my mate was about to start engineering a new one, but, amazingly a really nice nick one turned upon ebay and was swiftly purchased.
We finally got that all sorted yesterday (after a 1 hour drive across Devon with no reverse or first gear!) and the difference is amazing. We also fitted a quick shift kit, and sorted out various other issues we found en route!
Also, we spaced out all the wheels a bit - fronts out another 10, and the backs 25mm - which makes it look even better - gives it a proper stance! I dont have any pics of that yet tho.
Immediate plans - get the MX5 seats in, and get rid of the rear tow bar... I'm never going to use it, and it weigs a tonne! Then, engine service, and a new stainless steel exhaust!
Finally (for now) here is a quick pick from last night of it lurking around next to my Mates t3 that he is working one... what he has done to it is immense, it was a proper shed to start with - and he now has a proper hatred of t3's - but, he genuinely does appreciate our van and actually really likes it (both how it looks and goes!).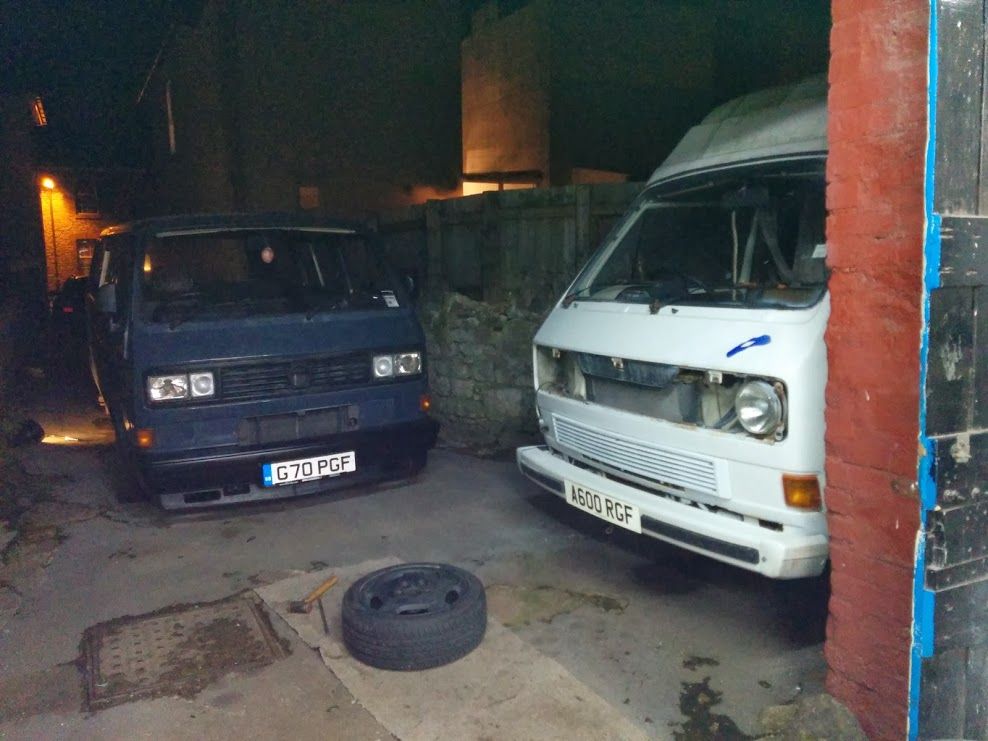 ---
Next... tow bar came off, and a trade for some bumper brackets in process;
We had a little go at getting it off a couple of weekends ago, but were doing about 10 other things to the van at the time, and it was proper cold and getting dark - Wouldnt budge... was going to take it up to my friendly (mainly because of the amount of stupid sized tyres I buy through them) local garage to get it taken off, but, thought I would have one last try - I missed 2 bolts; slid straight out with them off!
Got another full day planned working on it next weekend - plans are seats in, tidy up the engine bay and relocate the engine battery (cunning plan coming up!). Until then, I'm still rocking my tweed seat from my mates T3!
---
March 2014
So - spent the whole Sunday working on the Van (well - started as early as possible as I had a late gig on Saturday, and had the clocks going forward to factor in...). But, it was one of those days where we did loads, but, it doesnt look like it!
Custom made battery tray -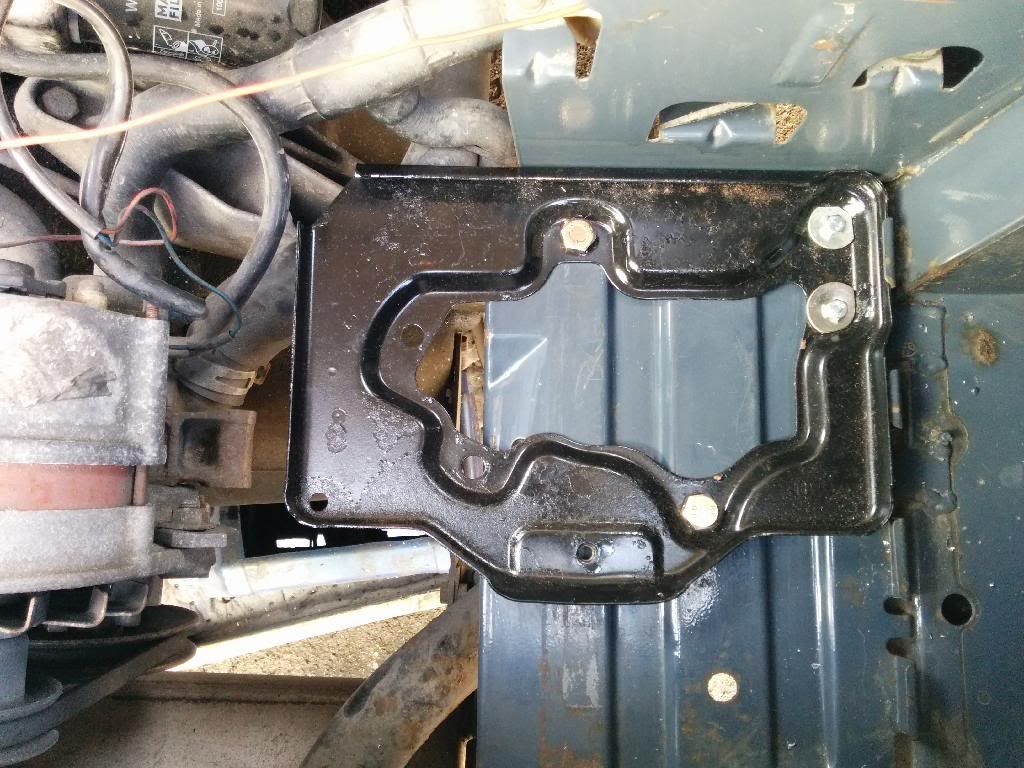 So that we can rotate the battery -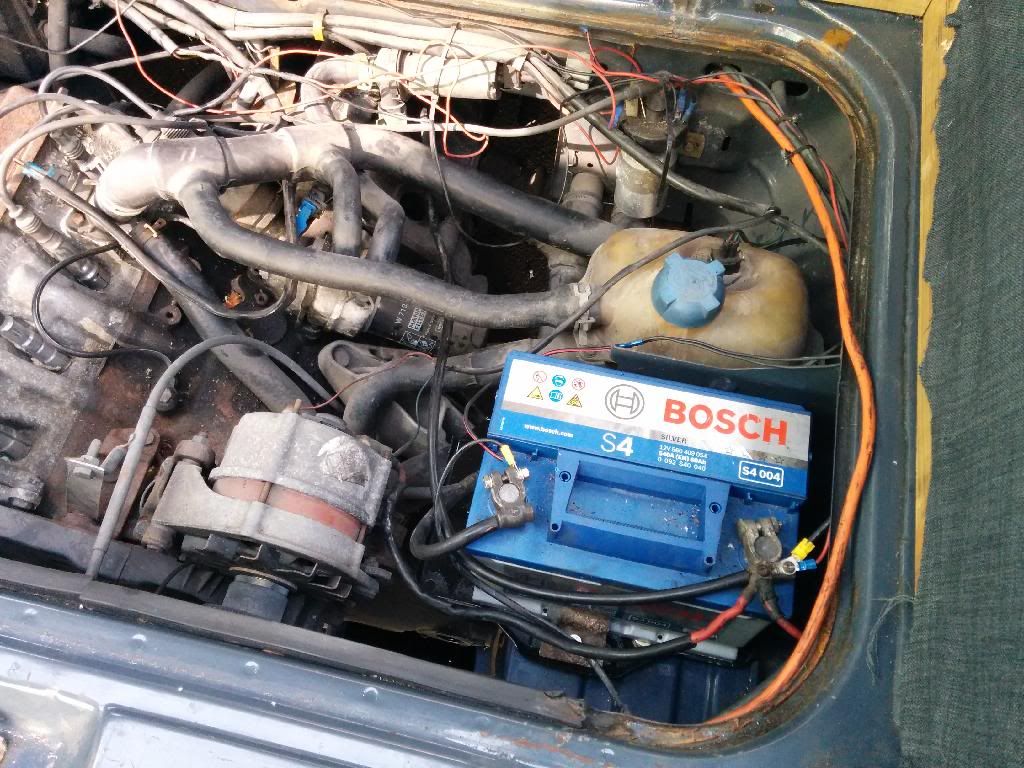 to create some more room behind it for a cunning plan - more on this very soon!
Also, tidied up lots of wiring, and removed the extra oil filler pipe as it got in the way and was unnecessary! Removed LOADS of wiring that started in the engine bay, that actually turned out to go no where! But no pics of that. Lots of measuring up, and sorting exactly what we need for our next time...
Oh - and have some new wheels on the way - should be on next weekend!
---
April 2014
Sooooo - 2 of the new wheels are on; am awaiting tyres (Monday) before I fit the fronts...
Heres a couple of teasers!
What a difference an inch makes! Really looking forward to getting the fronts on - it will really transform the look of the Van.
Also, sorted (hopefully) an intermittent fault with the amp/headunit - that turned out to be caused by another bodge! Its luck I love it so much - fixing all these bodges can get tiring!
---
April 2015
So - lots done as I'm off for Easter. All wheels on, with some new tyres on the fronts. The look brilliant IMHO, spacer wise, I am running 10mm at the front, and 25mm at the back (proper Brickwerks job) and I'm chuffed.
Changes the way it goes, cruises, handles, sits - everything!
Also, have been continuing on the general tidying up.... and did some more interior work - continuing the theme with an amazing fabric pattern we found;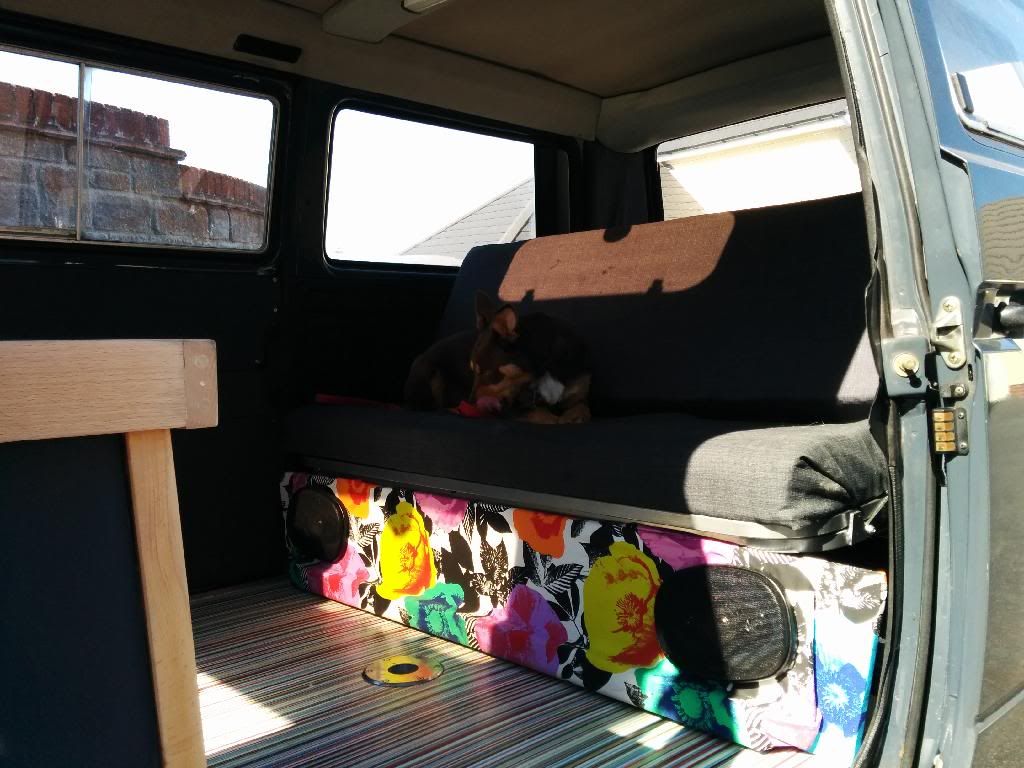 After months of only one seat - we finally got one of the new seats temporarily in... really looking forward to getting them both in permanently as they look perfect, are comfy and provide a great seating position!
My mate is making some nice custom mounting strips - with welded on bolts etc, and we are using the runners from my old Recaro's;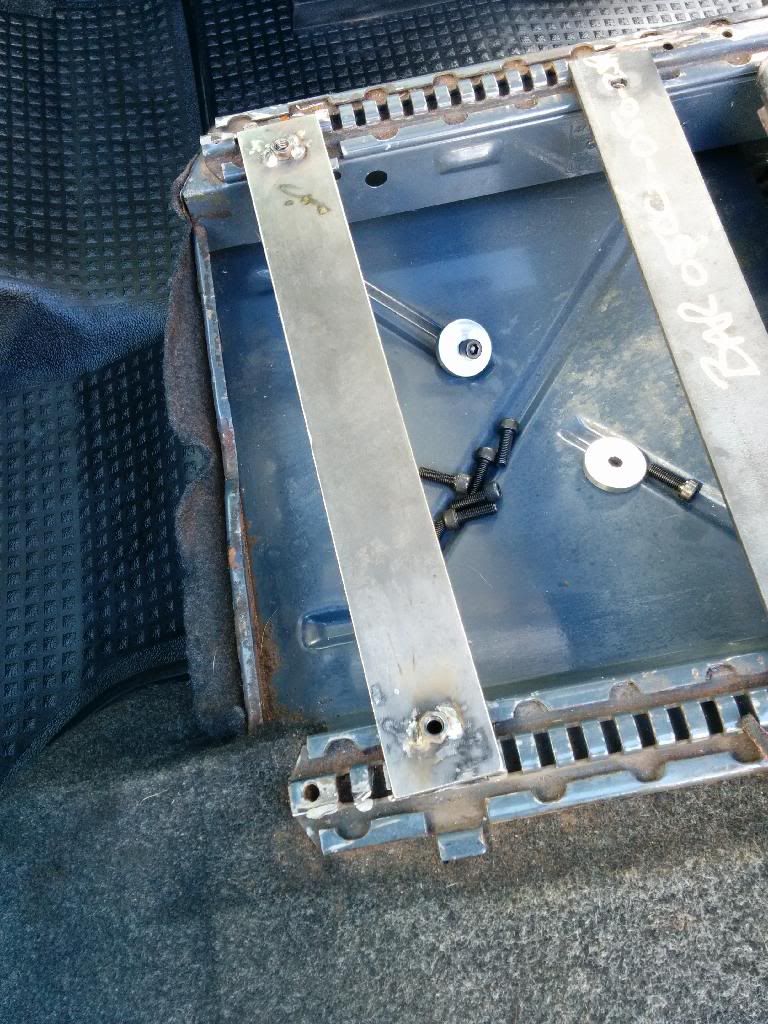 We want to keep the interior clear and spacious so are looking at a couple of units behind the drivers seats - we want to keep the twin sliding feature. So, we have one unit made and in (courtesy of my brother - a trained chippy), and are looking at putting together a buddy seat style unit on the other side;
Finally, we got a custom exhaust made and put on it - just picked it up today. After initially contacting a certain well know stainless steel exhaust place, and being basically told it was too old, and not standard, I found a local(ish) place who were brilliant - would not quote over the phone, wanted to see it and properly work something out... turns out they make the exhausts for Morgan! Got them to go manifold back, and remake the shocking 2 into 1 piece that was previously on there... anyway - these are the results... am proper chuffed, and it sound brilliant!
New 2 into 1, and flexi;
Handmade throughout, with a custom made back box;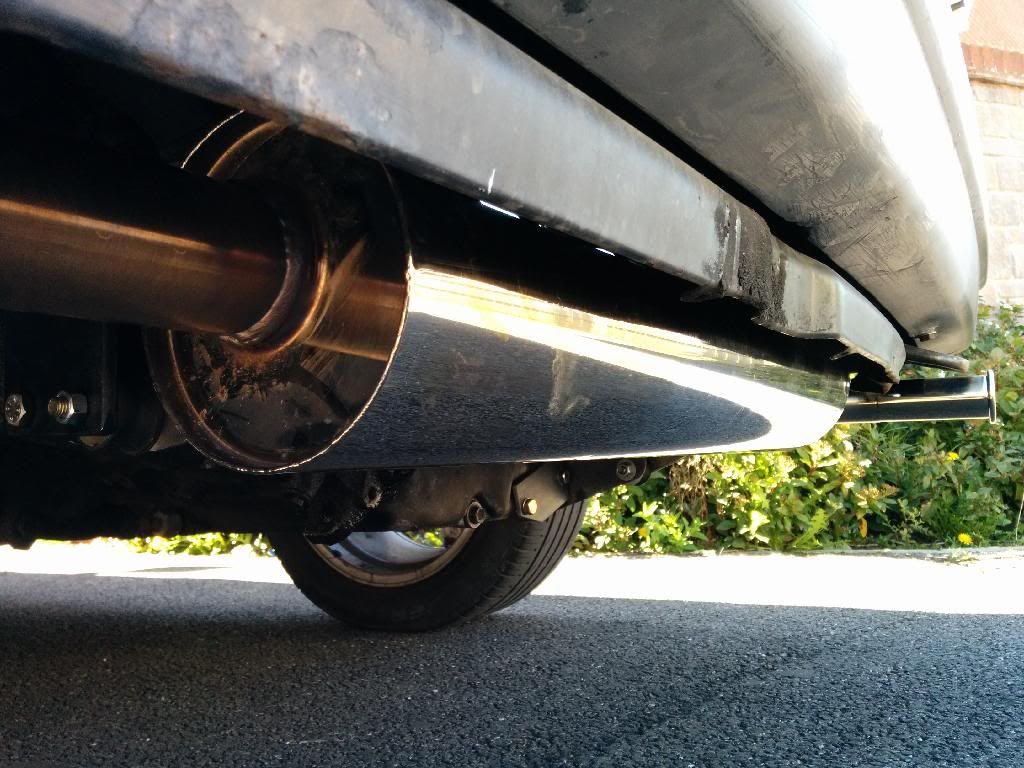 To celebrate - we are going away in it now! Then, over the next weeks, will be getting both the seats in, and sorting out a crazy air intake plan...
---
So - that takes us up to April 2014.... will sort pictures out now for the rest of last year, and update!
So - next couple of updates will be to get us up to date on the project, so we can see where we are at!
Built a swanky induction kit, to move the filter from above the exhaust (where it currently sat - remember its got a golf gti 1.8 in the back) and put it right over the other side of the engine bay, to such in some cool air. This is the rather swanky MAF plate my mate put together to get rid of the nasty K&N job;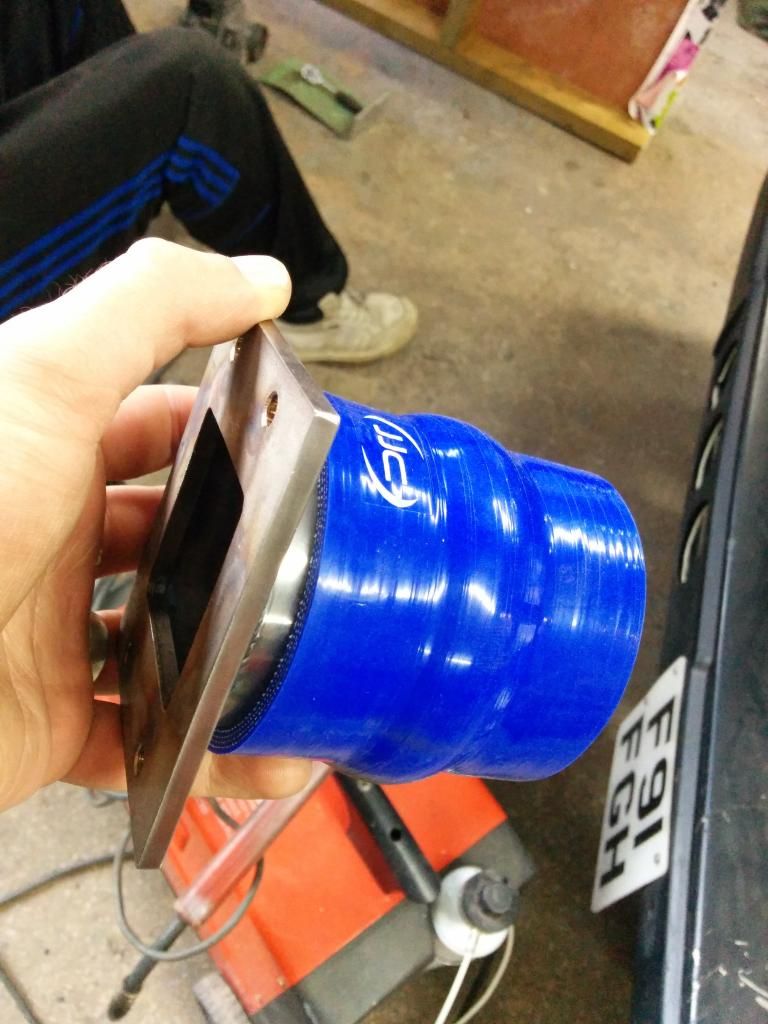 And we went for the biggest air filter we could fit in the space;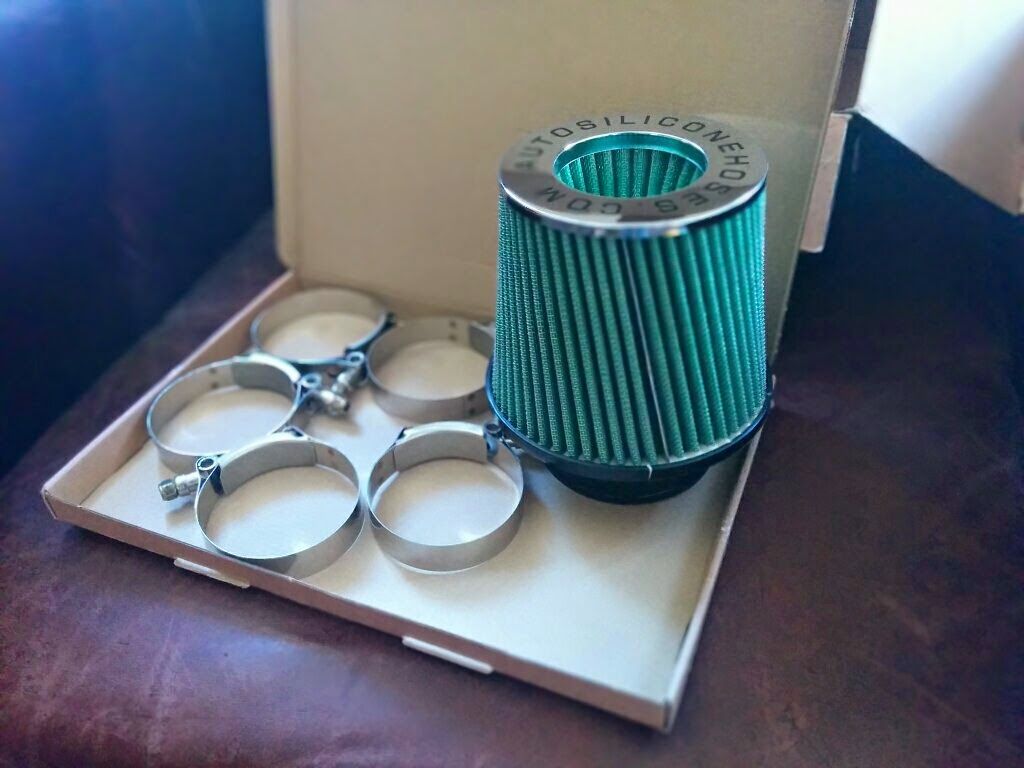 Will get some pics of the whole setup soon.
---
Replaced the exhaust gasket as it was blowing a bit;
And also got hold of a ported and flowed head for the engine, with a high lift cam!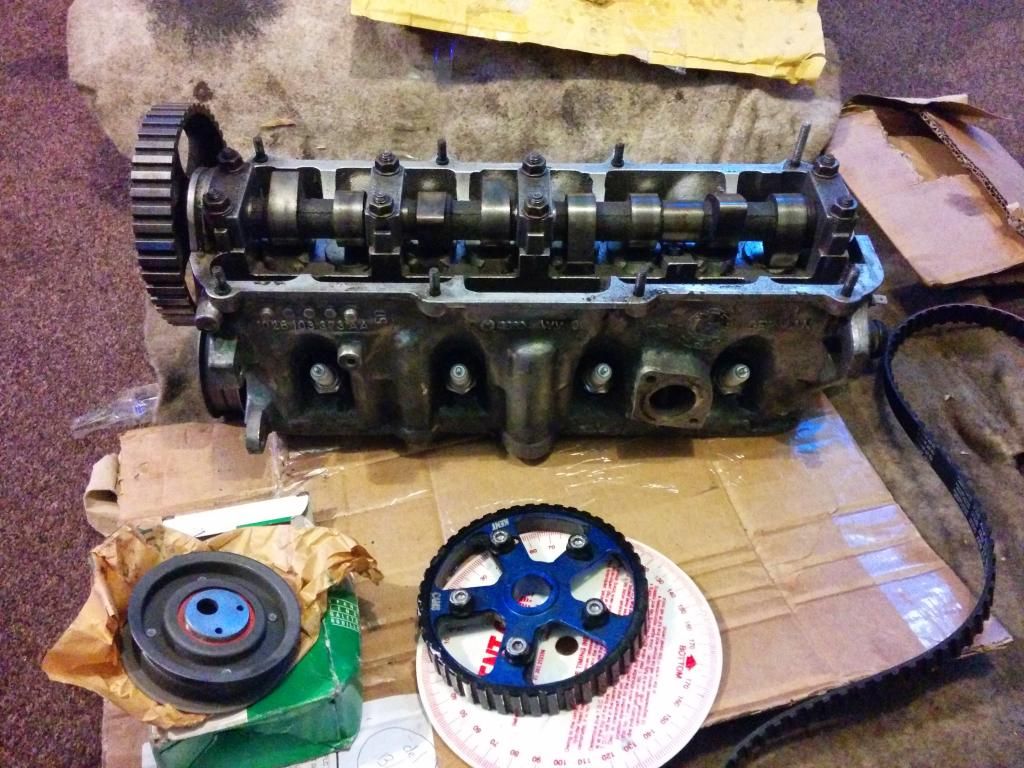 This still isnt on yet, as we found the engine already had a fairly hot cam in, so wasnt so much of a priority.
Imelda helping with work;
And also started assembling some powerflex bushes to tighten up the front end a bit, again, not a big priority at the moment, but will happen;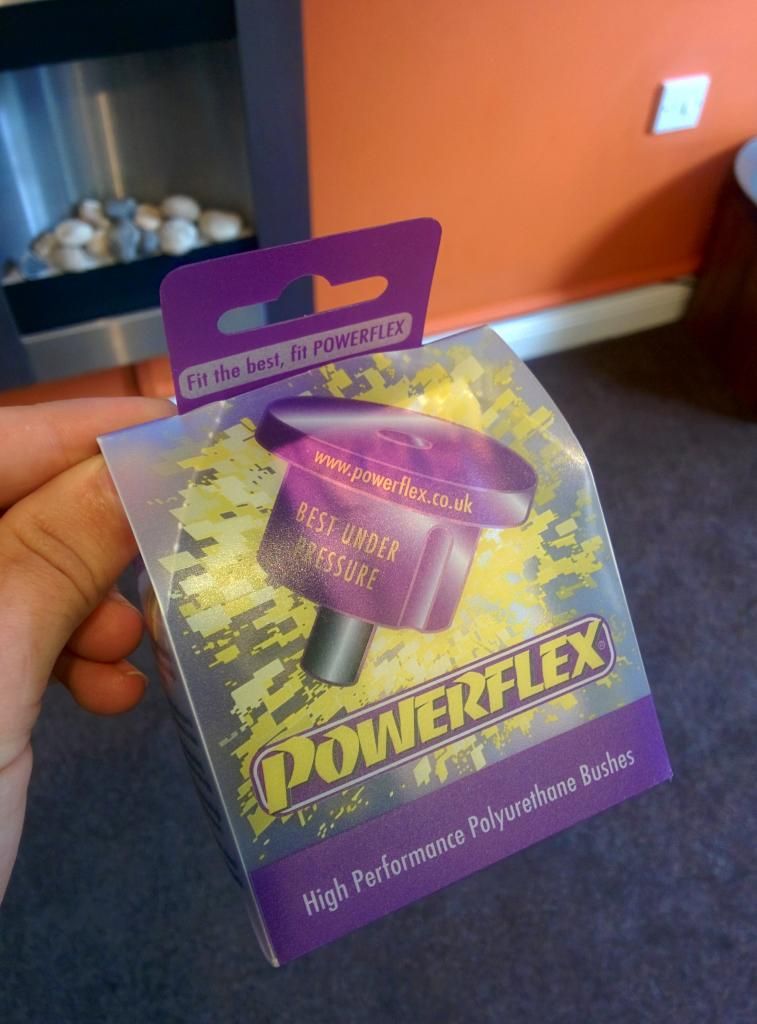 Been tidying up the engine bay as we have gone, getting rid of unnecessary bits, and generally tidying...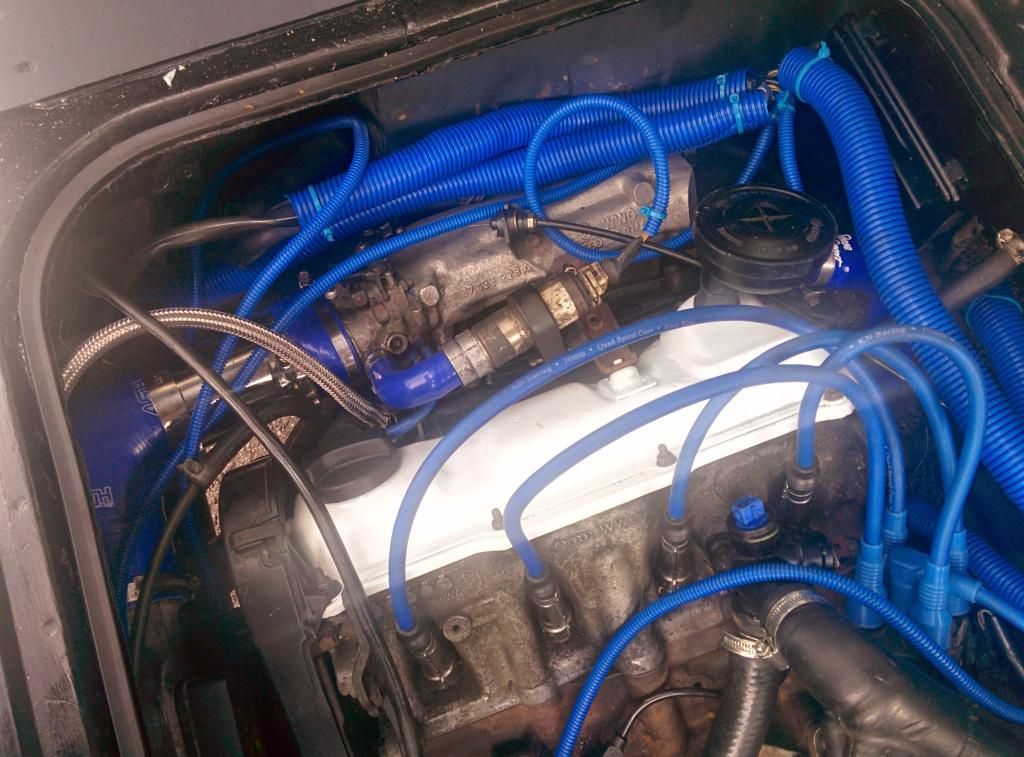 Will get some better pics, showing everything off.
---
One of the biggest upgrades last year was new front brakes. Got rid of the bottle tops that were on there as standard, and fitted a set of 286mm vented discs and callipers off of a Audi A4/A6 on there. They have the ability to go with 312mm discs when these go... the bigger engine etc just needed something with a bit more bite;
Massive difference, and so much better. After that had a bit of a problem with non starting etc, but got that sorted, and she flew through an MOT!
---
Fitted a new starter motor, and water pump (no pics) as well as helicoiling one of the flanges as a screw had snapped in the block. Painted the roof white too;
Lots more little bits going up to October Half Term (including getting power steering fitted, and fitting a steering wheel from a Mk2 Golf Gti), and we went away for a week over half term in it.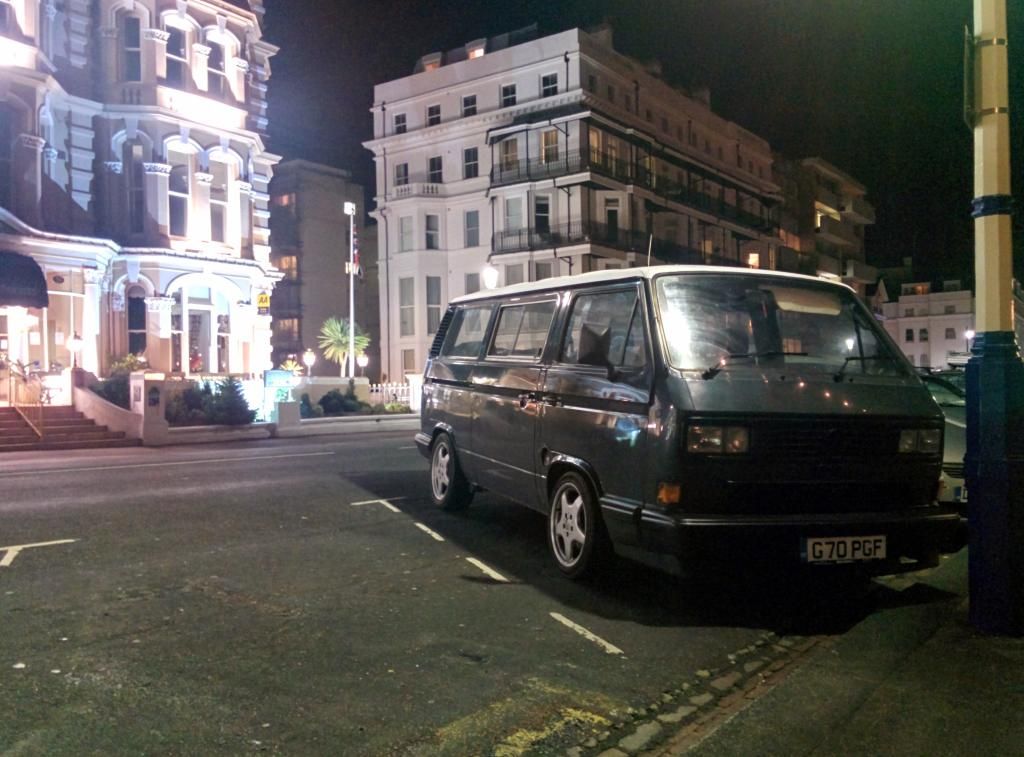 It performed amazingly - did the whole south coast over the week, without missing a beat. Kept up with (and embarrassed!) plenty of new, fast cars, didnt drink to much fuel, was comfy, reliable... spot on!
---
So - that took us (roughly, and very quickly) up to winter 2014. Will now keep stuff updated more accurately as we go!
Great post. Can't wait to see more and thanks for joining our forum.

P

I second that Phil great post and a good looking van
Niceeeee!!!
Well done AJ
So - focus so far this year has been the interior. First plan was the area under the R&R bed. I started with lots of planning, followed by creating templates;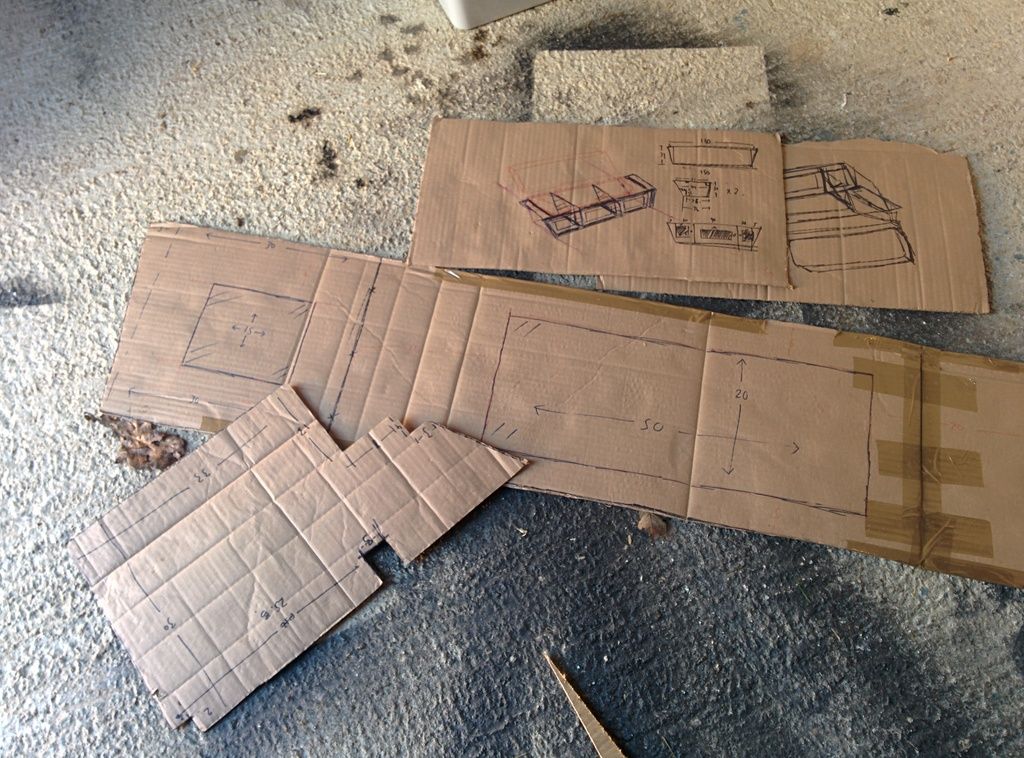 I then paneled off each 'end' section;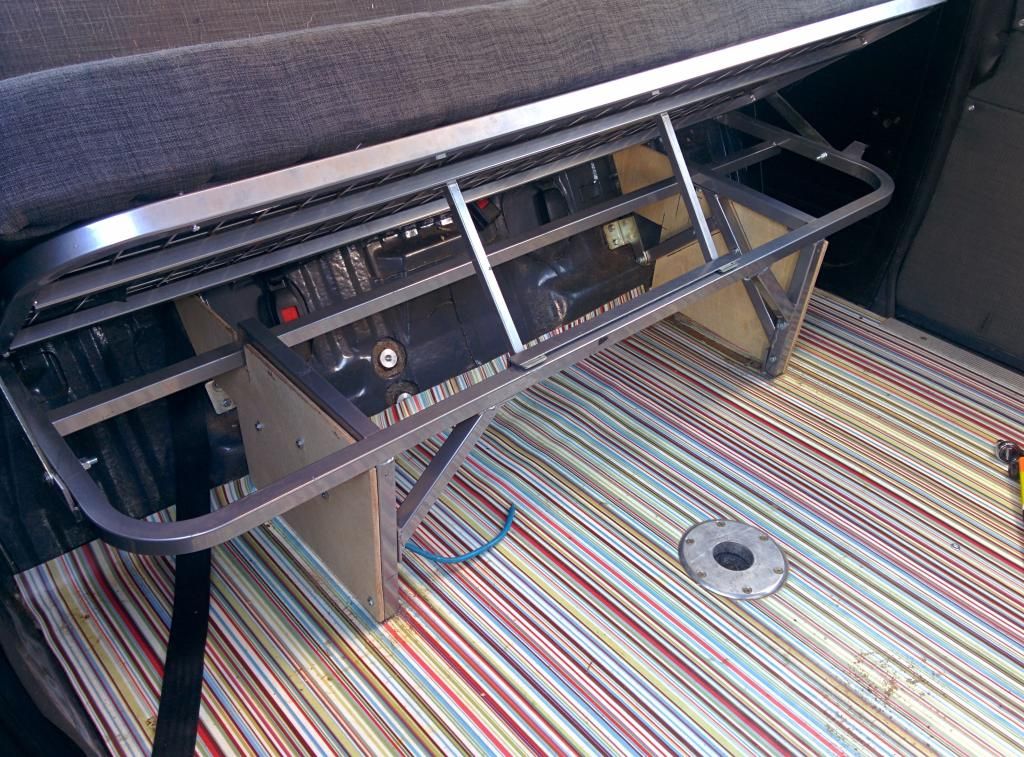 I battened the main surfaces;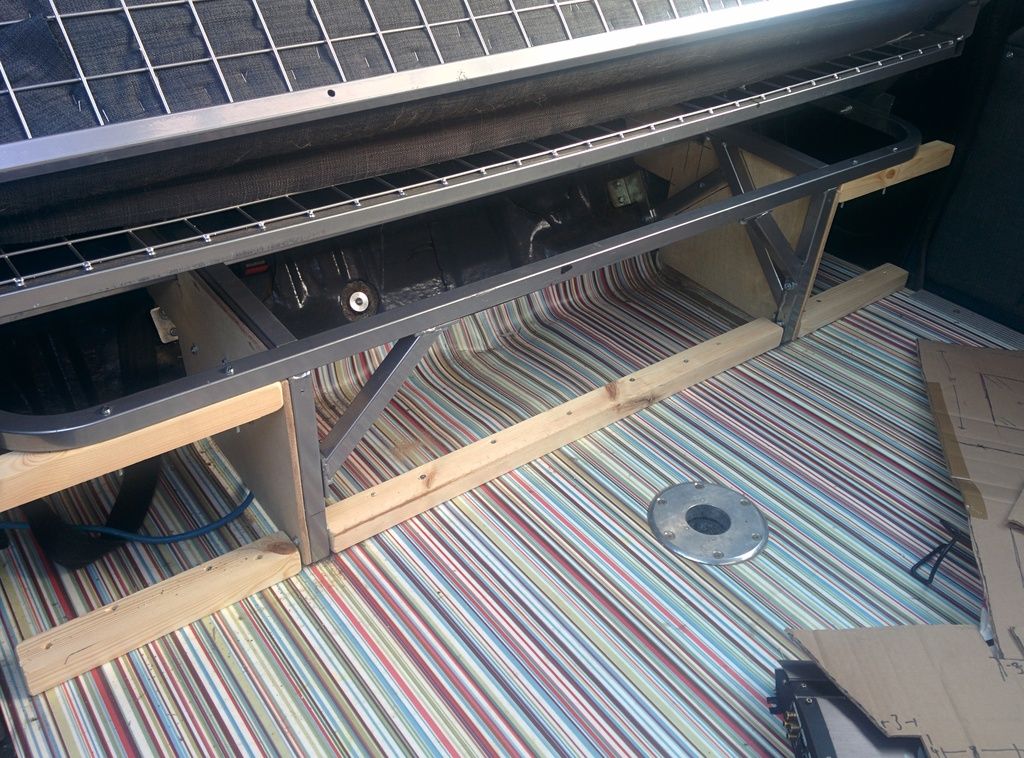 Allowing me to securely attach the front panel;
And then this is the finished result with a couple more panels, and covering;
I moved various bits, and basically made better use of space. So, Amp is now on the side of the cabinet;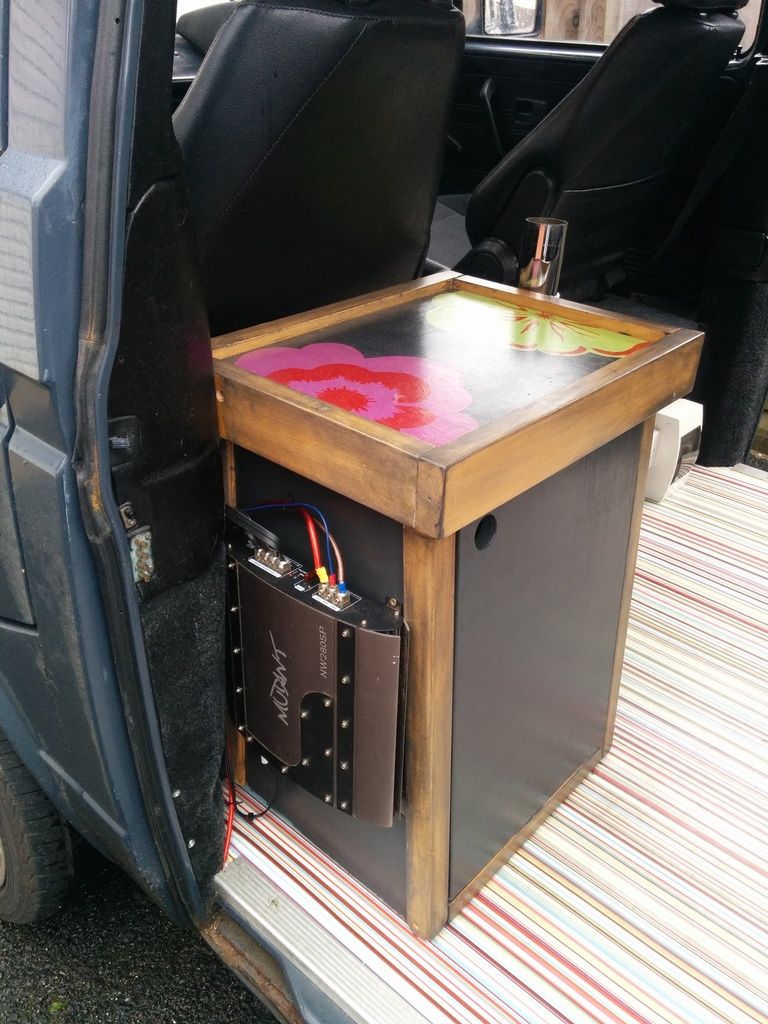 And I used some nice alloy fuel filter brackets to store the table leg when not in use;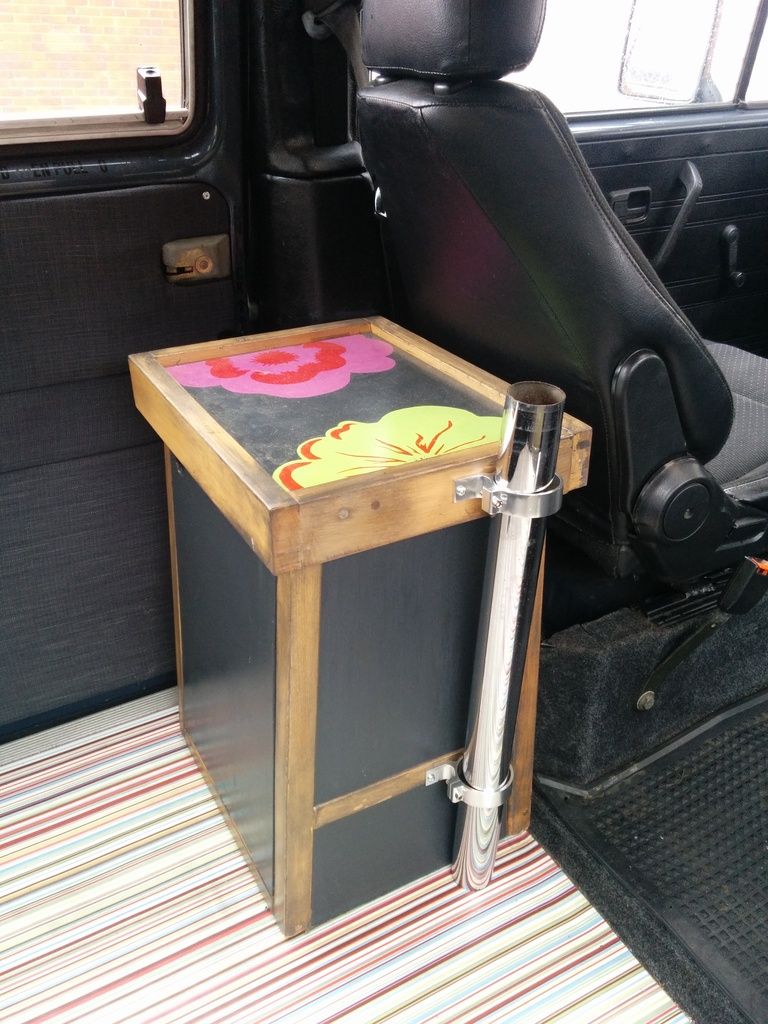 Before giving the interior a good clean;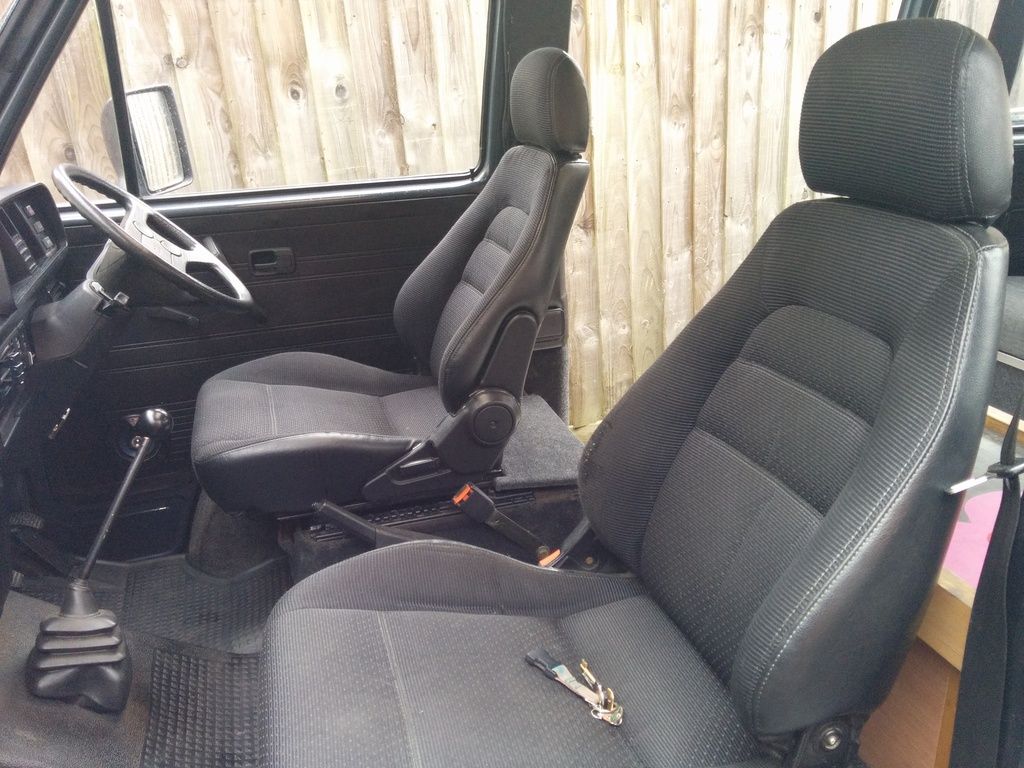 Here you can see the smaller steering wheel fitted when we had the pas done last year;
And as promised, here is a pic of the engine bay as it stands;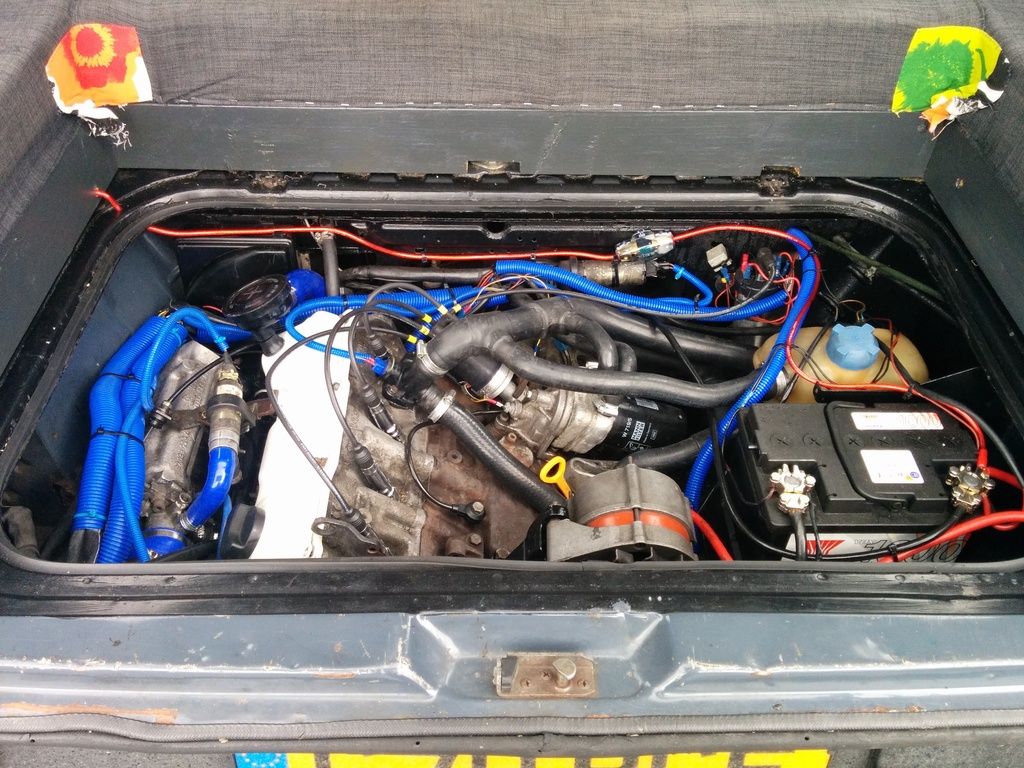 We are going away for a week in it tomorrow, so hopefully will have lots of pics coming soon!
Users browsing this thread:
1 Guest(s)